Product Details
Meet Bob as he journeys along the magical River Mumbles, which flows through Grumbledown. The river takes Bob on an unexpected, topsy-turvy journey through the seasons, where he encounters a host of different animals and plants. Bob learns to keep smiling, even though he's not sure what's around the next bend.
Bob and the River of Time introduces children to the beauty and wonder of wildlife and nature. Bob discovers the changing seasons, different types of weather and a huge variety of plant and animal life. On Bob's journey, he sees a host of different animals, creepy crawlies, birds, flowers, vegetables and trees. The book is packed with interesting facts, meaning children can learn more as they discover the different critters. The beautiful illustrations and attention to detail ensure that each time you open the book you'll discover something new. There is a key in the back of the book to show you where all the colourful characters are hiding, in case you're really stuck!
Join Bob as he learns to be mindful and maintain a positive outlook, even when he isn't sure where the river is taking him. The calming flow of the story will send children to a place of tranquil and inspired imagination. The story is ideal for relaxing bedtime reading, but hunting for and learning about all of the creatures will provide hours of additional fun. Searching for the many creatures and plants within the book is a great way to focus a child's mind, especially if their mind has a tendency to wander.
Join Bob as he learns one of the most simple, eloquent and powerful lessons life can teach. Bob and the River of Time is a fantastical, educational picture book written and illustrated by James Garner. It is a charming, colourful, fun short story ideal for entertaining and inspiring children.
Suitable for children aged 3 years and upwards.
"An adrenaline-fuelled white-knuckle ride."
- Parsley the Snail
"There isn't a single car in the whole book so it's a thumbs up from me!"
- Gemma the Hedgehog
"I was really enjoying it up until I got eaten."
- Alex the Worm
'Bob and the river of time' has been shortlisted for the Made for Mums Awards 2018!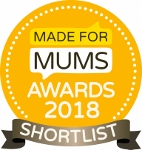 ---