Product Details
Puffed Out: The Three Little Pigs' Guide to a Growth Mindset by Will Hussey and Barry Hymer is a comprehensive catalyst for cultivating a growth mindset. Schools increasingly value grit, determination, resilience and adaptability as being key to deep learning. But how do you put these values into practice? This innovative approach starts by getting learners to think about a seemingly familiar story in a radically different and creative way. Who knew the story of the three little pigs was so complicated, and so challenging? In fact, for decades adults have even been reading it to infants, as if it were a simple tale for simple kids! The essential plotline: three pigs each build a house. A wolf exposes the limitations of two of the houses through lung power, but the third house remains standing. He attempts to force an entry via the chimney and fails.
This book might seem to be about the three little pigs, but the pigs are just the focus of its real purpose, which is to challenge and encourage learners to immerse themselves in thinking between, above, below, around and beyond the tale's unexplored blind-spots. Crammed full of activities and diverse open-ended questions, there's plenty to ponder over, and if they require a nudge or two in the right direction, they'll find them – although the direction they take depends on which way they're looking at it. Prompts and responses abound, although it's not always clear which is which; questions can be answered and answers should be questioned.
Learners will develop the confidence and independence to pursue their own ideas and opinions as they think creatively and cultivate original and innovative responses. Students are encouraged to respond as they see fit, developing key skills transferable to wider areas of the curriculum – and life. This has the added advantage of cultivating intrinsic motivation and a love of learning in the process. The challenges will capture learners' interest and curiosity by appealing to their sense of fun and nonsense. Word play, puns and writing prompts simultaneously encourage the development of literacy skills. Extension material and helpful nudges mean the activities are self-differentiating and will appeal to all abilities across key stages 1–3.
Suitable for primary and lower secondary teachers.
Puffed Out has been named the winner of the Educational Book Award in the 2018 Education Resources Awards.
Judges comments: "Using a novel approach and a well-known story, Puffed Out by Will Hussey and Barry Hymer, introduces pupils to ethics, philosophy and critical thinking. It is exceedingly witty and will help create fun lessons while introducing pupils to new ways of approaching difficult concepts. It made us laugh and think throughout the judging process."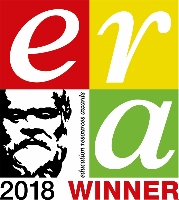 ---